Popular Posts
All Things New: Heaven, Earth, and the Restoration of Everything You Love by John Eldredge reminds the reader of an often forgotten, yet ...

Capital Gaines: Smart Things I Learned Doing Stupid Stuff by Chip Gaines is the story of the rise of the popularity and success of Chip a...

Truth Doesn't Have A Side: My Alarming Discovery about the Danger of Contact Sports by Dr. Bennet Omalu tells the life story of the m...

One Blood: Parting Words to the Church on Race and Love by John M. Perkins contains the hard earned life long wisdom of a man who has spe...

Goliath Must Fall: Winning the Battle Against Your Giants by Louie Giglio is a a strong addition to the library of any believer in Christ. ...

The large deluxe version of Jesus Always: Embracing Joy in His Presence by Sarah Young is a beautifully bound and presented version of on...

How to Overcome Worry: Experiencing the Peace of God In Every Situation by Dr. Winifred Neely is a short, practical guide to dealing with ...

Friend of Sinners: Why Jesus Cares More About Relationship Than Perfection by Rich Wilkerson, Jr. uses the Bible to highlight the fact th...

How the Nations Rage: Rethinking Faith and Politics in A Divided Age by Jonathan Leeman examines how Christians should engage in the publi...

Braving Sorrow Together: The Transformative Power of Faith and Community When Life is Hard by Ashleigh Slater is an introduction to the po...

Blog Archive

About Me

Check out my personal blog!
Thursday, November 10, 2016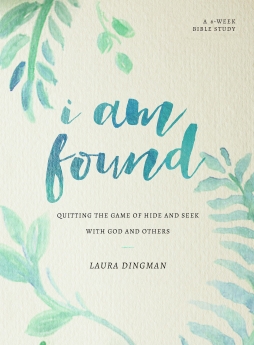 i am found: Quitting the Game of Hide and Seek With God and Others
by Laura Dingman is a six week Bible study for women focused on breaking the shackles of shame and replacing with the truth of God's word the lies that hold us in bondage.
Each week involves a Bible verse or two to memorize, and five days of study. Each day has questions to answer and scripture to examine. Sometimes the scripture is printed, and other times the reader is directed to use her own Bible. At the end of each week, is a "Truth, Lies, and Action" section that is designed specifically to help the reader identify the lies she believes in regards to that week's topic, the contrasting truths of scripture, and creating intentional steps to replace the lies with truth in our life.
The structure of the study is very user friendly. Each day's "workload" is quite manageable and allows for deep thought and introspection. This study is drenched in and founded on scripture and it's truths. The brief personal stories that are at the beginning of each week's content are relevant and relatable. Overall,
i am found
is a very well written and helpful study that would benefit any woman willing to put the time into it, either individually or in a group.
I received this book free from Moody Publishers as part of their Moody Publishers Blogger Review Program. I was not required to write a positive review. The opinions I have expressed are my own. I am disclosing this in accordance with the Federal Trade Commission's 16 CFR, See Part 255